Welcome to Ocean City Lagos, Nigeria's first Smart Green City
It will be the center of the rapidly changing Lagos metropolis. Ocean City Lagos will transform the Lagos coastline into the world's next 5G powered destination. It will be home to a futuristic commercial hub, trendy and spectacular eco-friendly neighbourhoods. The new island city will also feature the best in medical innovation, arts & entertainment and a wide range of modern facilities for sports enthusiasts.
At the heart of it, taking its pride of place at the centre of the city, will be Nigeria's next landmark, Africa's tallest skyscraper.
The city will boast of the finest in luxury residences and of state-of-the art commercial properties.
Our 308-hectare city will be home to the finest gourmet restaurants, one-of-a-kind shopping experiences, world-class medical, cultural and sporting facilities held together by a high-tech transportation management system that connects Ocean City to Lagos and the world by air, land and sea.
Ocean City will be located on a man-made island just off the Lagos coast on the Atlantic Ocean, and will be accessible by an extension of Ahmadu Bello Way.
The extension will be a 7km tolled coastal road that complements the city's transportation network from the marine terminal to the city airport operating short and medium haul charter and commercial flights.
THE DISTRICTS
Ocean City Lagos will include millions of square feet of commercial, residential and mixed-use space, along with shops, restaurants, public parks, centres for sports, medical, and academic excellence.
GLADYS - Residential
MADAKI - Mixed-use
AREMU - Cultural and Medical
ADESOLA - Airport / Marine Terminal
FIVE COWRIES - Commercial
LIVING IN OCEAN CITY
Living in Ocean City Lagos' Gladys and Madaki Districts represents the epitome of urban living from spectacular design to world-class amenities and hospitality service.
Gladys
Gladys will be the wholly residential zoned district in Ocean City Lagos featuring high-end ocean-front dwellings with private marinas. Residences at Gladys are complemented by the residential towers in Madaki our mixed-use zoned district.
Madaki
Because a neighbourhood is made up of more than what is inside each home, the buildings in Madaki will also feature public art installations that inspires, shared spaces that welcome, and exclusive access to a variety of only-at-Ocean City amenities and infrastructure.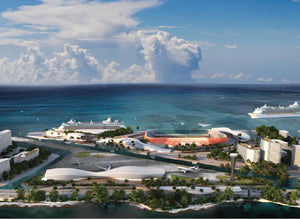 Aremu

The Aremu District will be inspired by the artistic beauty of the performing arts center. Residents and visitors can challenge their inner athlete at the multi-sports complex which features over 20 different sports including a dedicated football stadium, a rowing course and equestrian course.

In a single location easily accessible by all modes of transportation, residents and visitors of Ocean City Lagos will have their pick of amazing activities and attractions, each more alluring than the next: a diverse and vast restaurant collection; the finest shopping malls; popular clubs, a theme park, public outdoor spaces, beaches and marinas. This will establish the Lagos coastline off Victoria Island as the city's most dynamic district.
Medical City

The Ocean Medical City in the Aremu District, will be a city within a city. It will be spread over 30 hectares, bringing world-class healthcare to Nigeria through facilities in several hospitals providing care in pediatrics, trauma management, physiotherapy, day surgery, orthopedics, specialist care, nursing home, a university of medicine, a nursing school, and a center for research and development.

It will run on smart technologies that provide real time data based public health interventions, telemedicine and integrated patient flow management systems.

Once completed, Ocean Medical City will provide between1,000 and 1,500 beds in its facilities together with accommodation for medical staff, teaching faculty, researchers and industry experts.

GETTING TO OCEAN CITY
Adesola
The Adesola District will be home to the Ocean City Airport, Cruise Terminal and ground transportation hub connecting Ocean City's business, cultural and residential districts to the rest of Nigeria and the world.

This Master Plan sets the foundation for Ocean City Airport to develop as a resilient, sustainable gateway to the region, providing new employment and economic opportunities in Africa. This Master Plan also oversees the evolution of the Airport and its great potential to deliver significant economic and social contributions for the region.

In preparing the Master Plan, consideration has been given to diversifying commercial activities at the Airport.

In addition to traditional aviation operations, on-Airport activities may also include ancillary opportunities geared towards supporting and growing the region's capabilities and contributing to all levels of the economy.
WORKING IN OCEAN CITY
Five Cowries
Welcome to the future of work in Ocean City. To have a job in Five Cowries the commercial zoned district of Ocean City is to see the future of office life everywhere around you built to meet the demands of physical and
virtual workspaces.

Features will include: access to only-in-Ocean City amenities and programs; state-of-the-art technology for data and communications; dedicated and efficient energy management systems that ensures business continuity; and environmentally responsible infrastructure that will reduce our carbon footprint.
Ocean City Lagos will become the new model for smart workplace experience in the region attracting leading companies of all sizes and from all industries.

Ocean City Lagos will be unlike anything ever built before; a living breathing city that will champion and trailblaze first-to-Lagos eco-friendly experiences and will be home to state of the art exhibition spaces featuring all year schedule of world class programming in collaboration with leading event organisers from around the world.

WHAT TO SEE AND DO IN OCEAN CITY
The restaurants at Ocean City will offer a delectable and diverse collection of food options from elegant fine dining to cafés that will offer only-at-Ocean City culinary experiences.
The integrated and innovative designed outdoor public parks, gardens and beaches located on the Victoria Island side (northern boundary) and the Atlantic coast (southern boundary) of Ocean City Lagos will become the new gathering outdoor space in Lagos.
The gardens and parks will feature varied horticultural experience with water features, landscapes designed to inspire, relax and rejuvenate the minds of visitors. Our collection of parks, gardens and beaches will be created for public use.
BUILDING OCEAN CITY
The building of Ocean City Lagos will require visionary design, detailed construction sequencing, sophisticated problem-solving and most importantly use of data and technology to build an efficient, responsive and sustainable city.
It is one of the most complex feats of urban engineering in the region's history.
By the time it is completed, tens of thousands of men and women will have worked on the construction of Ocean City —from architects to engineers, from carpenters to crane operators, from lathers to welders, from floorers to roofers.
SITE
PROJECT MILESTONE
The Principals
Ocean City Lagos Limited is a special purpose indigenous company incorporated to carry out the business of real estate development of residential and commercial buildings as well as retail and leisure facilities. The company was established in October 2019 and is headquartered in Lagos, Nigeria.
Ocean City is an affiliate (with common shareholders and directors) of Sea Global Energy Limited, a company incorporated in November 1978, with a strong track record of developing varied businesses and executing projects in the retail, communications and real estate sectors. The promoters of these companies are well versed in navigating the intricacies of the socioeconomic and political landscape in Nigeria.
Sea Global obtained an approval from the Federal Government of Nigeria in May 2003, to reclaim 350 hectares of land from the Atlantic Ocean, on the shores of Lagos. Sea Global has now assigned all rights and interests in the reclamation project to Ocean City.
With its strategic partners, Ocean City Lagos Limited intends to develop a smart, green and self-sustaining municipality on the reclaimed land, to be known as Ocean City Lagos.